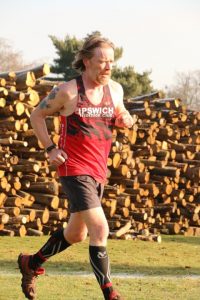 Hi I'm Russel. I joined the club in 2010 to supplement my run training with other forms of exercise. So I added 'rubbish triathlete' to my achievements as 'average runner' and, more recently, 'so-so quadrathlete'. 
I organise the club's participation in the Suffolk Winter League, which is the local cross country competition. No races this season, sadly, but watch out for posts from October 2021 onwards. I also sort the pool bookings and lifeguards. We will resume swim training as soon as its allowed, so again watch out for posts.
I am happy to answer queries on any of the above. And can also answer queries about quadrathlon (tri plus kayak racing…the ultimate minority sport).