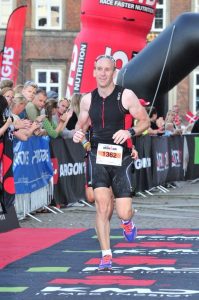 As a teenager I enjoyed swimming at the local club and participating at all levels of competition, however as I grew up, I lost my passion for this and never thought I would use this skill again.
Then one day after a trip away I decided that I should do the couch to 5km run program. I remember thinking on one of the many walk run sections of the training, that 5km seemed like a long way, I could never consider doing a marathon.
Fast forward one year and a good friend said to me, you used to be able to swim, you've started running, I'm entering a triathlon, do you fancy joining me? Why not I thought, how hard can it be? So, there I am at the start of the Harwich Triathlon, waiting for what seemed like forever due to a staggered start. Finally, I was off, and the swim part of my triathlon was soon complete. I remember going into transition, a lot of the other competitors had these amazing looking bikes', and I was on my borrowed mountain bike! It did not put me off, I totally loved the race although my competitive side did not like being overtaken – the race inspired me to invest in a road bike and the rest as they say is history!
Six years later I have completed that marathon I thought I would never do, all be it at the end of an Ironman. I got the bug for long distance triathlon and went on to compete in two more Ironman races and various middle-distance competitions. This sport and Ipswich Tri Club has given me some lifelong friends who have supported me through so much. I have also had the privilege to represent my country at the Aquabike European championship in Ibiza where I finished with a bronze medal. This year I am looking forward to the European and World Aquabike championships, aiming to do as well as I can in my age group.