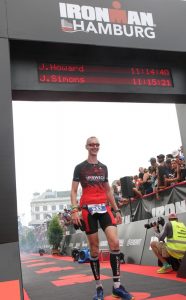 I was a keen cyclist when I signed up to a triathlon for charity with work and joined the club back in 2016 to help me train for it.
I learnt to swim when I was 25 from watching YouTube videos, and built on this with Charlie's help in the "newbie lane" at club swims. As soon as I finished my first triathlon at Culford in 2016 I caught the triathlon bug. I have gone on to race everything from super-sprint to Ironman distance, spurred on by the support of the people I've met through the club.
I took up the role of stato, running the numbers for the club's annual virtual distance challenges Tri2020 & Tri5000, at the beginning of 2020 and joined the committee in November 2020. I'm looking forward to playing a bigger part in the club and supporting people to start or continue to enjoy swimming, cycling, running, or all three!