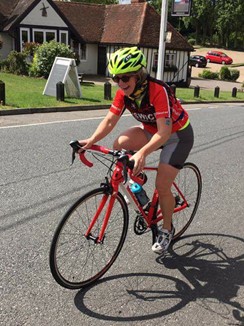 Coming from the completely different sporting background of martial arts, I decided to try out triathlons, as for some unknown reason I thought that the training would be easier on my aging body!
I completed several short distance triathlons, starting with a super sprint at the Welwyn Hatfield Festival of Sport in 2014, before joining the Ipswich Triathlon Club in the summer of 2015. Since then I've participated in various races, including the Mallorca Half Ironman to celebrate my 50th birthday. My favourite race so far has been the Vitruvian, which is held at Rutland Water.
Every year I participate in the cycle time trials and absolutely love these events. We don't see many women at these time trials, therefore my mission is to encourage more of the ladies from the club to come and have a go; they really are great fun.
In fact, I would like to see more ladies joining the club and participating in all the great events that we are given the opportunity to be involved with via the club.