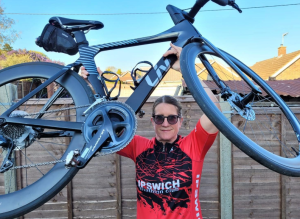 In 2015 I participated in a sprint triathlon for a bit of fun and during that event someone asked me if I was a member of the Ipswich Triathlon Club. This was the first time that I had heard mention of the club but after a small amount of research I found it and became a member.
This was one of the best, and the most expensive, decisions that I have ever made!
Since joining I have been motivated by the madness that ensues within the club; to participate in events that I am barely capable of but have gone on to complete and become stronger and fitter by taking on each challenge. These have included several middle distance triathlons, many cycle sportive events and some stupidly long swims, including swimming the length of Lake Coniston.
I now plan my holidays around races, or places that I would like to train, (a common trait amongst members of this club). Any "spare" cash gets spent on races and/or equipment and I now have a bike that is worth more than my car.
In 2020 I became the Club Secretary and now work hard with the rest of the committee to keep the club functioning. So basically, most of my personal life is taken over with all things triathlon related. Fortunately, my husband is also a member of the Ipswich Triathlon Club, so he still gets to see me!