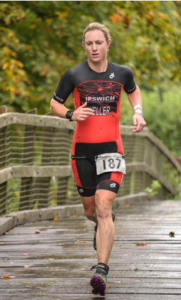 I am Claire Weller and I have been part of the Ipswich Triathlon Club since 2016. I wanted to share a bit about my triathlon story, from joining the tri club with little to no experience in triathlon to where I am today racing professionally.
I have always been into sports from a young age, being part of every sports team possible at school. I grew up in Geneva, Switzerland so I am also a very good skier (side skill)!! I started triathlons back in 2016 as a sibling rivalry (my brother did one and I wanted to beat him). I signed up to my first triathlon event having never run off the bike and with very limited swimming practice, which meant my result and performance was questionable, but the experience was amazing and I immediately fell in love with the sport.
As something that started out as a bit of fun, in 2017 I met my coach, Perry Agass when I went out to Cyprus on one of his age group training camps and he took me onboard as an athlete. Perry gave me a new vision in the sport, making me realise my own potential and I soon set myself new and bigger goals giving me the drive to be the best I can be.
Perry got me to focus on middle distance (half ironman) races where I have found herself much more suited. Although I will be stepping up to full (ironman) distances for the season 2021, which I'm really excited for!!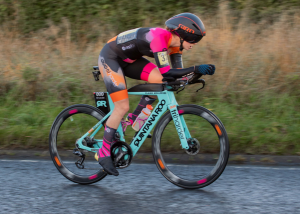 My strongest discipline is on the bike and I love a long Saturday morning ride (especially in the summer). Having hardly been able to swim when I first started triathlons, I am still working very hard to improve my swim. It's a process that takes time and patience, but when I look back to where I was 3 to 4 years ago, I am a whole new athlete in all 3 disciplines.
After having had a very successful 2018 season, becoming the BTF (British Triathlon Federation) middle distance 25-29 champion and the Castle Triathlon Series champion, my goal for 2019 was to get my pro-license, moving up from age group racing, and aspiring to make triathlon into a profession. I achieved this in May 2019 by winning Outlaw Half Nottingham.
I was really looking forward to racing with the Pro's in 2020, pushing myself against the higher level of racing but of course Covid 19 hit and I didn't race in 2020 with all that was going on. This hasn't impacted my desire and motivation in any way. I am very excited to get racing again.
I am very lucky to be supported by our local triathlon shop, Triharder. They are the most friendly and knowledgeable team. Any triathlon kit or advice you need, they'll be able to help you! Including wetsuit fittings!
I still work a, "normal" day job outside of triathlon so with full-time training and working means I need to be very disciplined. There's no time for contemplating those tough training sessions, I have a, "get out and get it done" mentality. Working from home during Covid has given me much more flexibility with my training and I find I get much more rest time to recover (very important!).
For all of you struggling with the winter training block – keep at it!! The days are getting longer, and we will soon be into race season where all the hard work you've put it will show!!
There is always so much room for growth and continued development in the sport of triathlon and with Perry, and Triharder behind me I am excited to see what I can achieve.
Happy Training!!